Monday, December 20 - removed headcap, removed eyes, cleaned stickytack out of head. Took a rough rag and a toothbrush to the doll, using plain rubbing alcohol. Below, I am using a USPS Priority Mail box as a colour reference.
Click image thumbnails to go to the much larger shots.
Before:
After: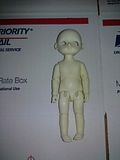 Doll is currently being soaked in a Tupperware container of 3% hydrogen peroxide, face down, to see if I can get any more of the crease stains to come out.